From the Pastor
From time to time one of our members will write something and share it with me. The following article from Deb Boelk is on a topic that I have not specifically addressed in a little while, that of stewardship. This article looks at the stewardship of taking care of the planet that God created for us as humans to live on. I pray you find it as thought provoking and enjoyable as I did. Pastor
The Desolate Land
by Debra Boelk
"…I will not drive them [Israel's enemies] out in a single year, because the land would become desolate and the wild animals too numerous for you. Little by little I will drive them out before you, until you have increased enough to take possession of the land." Exodus 23:29-30
What do you think of when you hear the word desolation? A vast, lonely area devoid of life? Ruins? A place where little to nothing grows? An unpeopled area? All of these would be in line with the dictionary's definition of the word. Have you ever thought of our world as desolate? As you've hiked or canoed along through remote, "unspoiled" wilderness do you think of it as desolate? Or do you revel in being away from the crush of humanity and all its improvements and technology? Do you stand on the hilltop and survey the vast, untouched acres and think to yourself that this is what the world was meant to be? Nature's freedom from the meddling hands of human beings is the way the world should be. Would you call it pristine?

If you buy into those thoughts, then you've started to walk down a logic-path where God never meant you to go. It may be hard to resist. It seems that everywhere we turn these days we hear about the sorry state of our planet. Acid rain, global warming, climate change, glacial melt, impending extinctions, incessant drought, desertification… The list of planetary woes goes on and on. When one panicked plea no longer captures the public's attention (whatever happened to acid rain- you really don't hear of that anymore) the talking heads move on to the next one. We need to SAVE our planet! We need to return it to its pristine condition! We need to regain the space and resources for flora and fauna to flourish! What all this basically means is that we need to eliminate humans. In the most extreme naturalist views, humans are bad for the planet.

I point to the verses in Exodus quoted above as testimony to God's use of mankind to care for His creation. Certainly God's love for his people Israel was demonstrated in his desire to give them a beautiful and productive homeland, but His desire to provide for His people did not overrule His desire to have the land properly cared for. He could have driven all the native people out ahead of the Israelites. Or He could have had the Israelites vanquish them all very quickly. He didn't even need to give a reason for not driving all the Canaanites out immediately. Or He could have very bluntly told Israel that these people would remain as a test of their faith and trust in Him (which is also a reason that the Canaanites were left in the land), but instead He cites the plight of the land. This is not merely a cagey excuse.

Think back to Genesis, just after God had created Adam. "Then the Lord took the man and put him in the Garden of Eden to work it and take care of it." (Genesis 2:15) And also in Genesis 1:28-31a; "God blessed them [Adam and Eve] and said to them, 'Be fruitful and increase in number; fill the earth and subdue it. Rule over the fish in the sea and the birds in the sky and over every living creature that moves on the ground.' Then God said, 'I give you every seed-bearing plant on the face of the whole earth and every tree that has fruit with seed in it. They will be yours for food. And to all the beasts of the earth and all the birds in the sky and all the creatures that move along the ground—everything that has the breath of life in it—I give every green plant for food.' And it was so. God saw all that he had made, and it was very good."

This was and is God's plan for the management of the planet. People are an integral part of the well-being of Earth. It is true that we human beings have not always stewarded our planet as God would have us. Many have abused the land and plundered resources all for the sake of personal gain or out of ignorance. But returning the planet to pre-Homo sapien quality is not what God would have us strive for. It was not until God had created man and woman that He called His creation "very good." Up until that point it was merely good. Far from a planet devoid of human beings with nature left to its own unmanaged proliferation, God assigns human beings the work of caring for and SUBDUING the Earth.

I think that word "subdue" rankles us a bit these days. Similar to the word "submit," we have a tendency to misunderstand the divine context of the word. Subdue does NOT mean to pillage the earth for our own personal gain, to haphazardly rearrange landscapes to fit our perceived needs, nor to be a harsh taskmaster- wringing every last drop of productivity out of one parcel, which we leave barren and devastated, before we move on to the next. It means that we are not to leave the landscape "desolate" as stated in Exodus.

An unpeopled landscape is a desolate landscape. A landscape that lacks caretakers and is left to "naturally" and wildly proliferate is desolate, not pristine. A landscape where wild animals become too numerous and endanger human life is desolate. We should be cautious how we use and interpret the word "natural" or "pristine" when talking about the processes and places of the earth. What we may have been led to believe is "natural" is, in God's reality, desolation.

More importantly, these passages indicate that we are not to become subservient to the planet and its creatures. Everything on and in the earth was given by God in order for mankind to flourish. We are to tend and care for it, but not to the detriment of our species. God has placed us in charge to utilize what we find here to "be fruitful and increase in number, [to] fill the earth," not to be held hostage by the imagined needs of plants, creatures, landscapes, and climate.

On many nature programs you hear scientists effuse about the resilience of species or ecosystems to come back from the brink and regenerate. It is not the resilience of nature. It is the hand of God, the creator of all, which sustains and guides all of it. It is God's good will. Fallen creatures living in a fallen world give evidence of the presence of sin. Not all the woes of the planet are attributable to mankind. The planet, even the universe, suffers the same effects of sin that we do. All our good intentions will not restore Eden. The best we can do is be good and faithful stewards, be fruitful and multiple, and subdue the earth, as God has commanded us.

Our part as Christians in this is to not buy into the overwhelming rhetoric to save the planet. Investing our time and money almost exclusively to prevent the effects of sin on the planet is a waste. We cannot save the planet. The planet is doomed under the same curse we find ourselves under. Does that mean we turn a blind eye to garbage on the roadside, industrial polluters, or rampant, ill-conceived development? No. But as with everything else in this Christian life there is a balance. We certainly can be active addressing poor stewardship of resources, but first let us examine what we are trying to accomplish. Are we attempting to create pristine areas untouched by human presence? In that case I would say that we are thwarting God's design for the earth. Are we using the land, flora, and fauna in a respectful manner to the betterment of mankind? Then I would say that we are on the right track.

We have a soul that can be saved. The earth will pass away and a new heaven and new earth will take its place. While we inhabit this sin-filled, temporary earth let us be responsible stewards utilizing its resources fully to humankind's increase. Let's have no desolate places.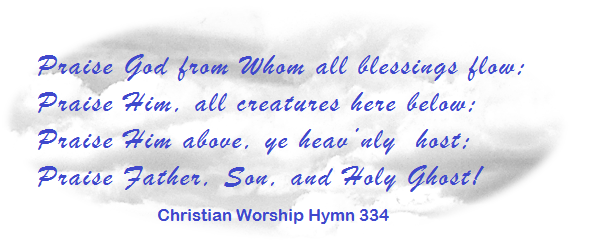 From the Council
We need to inform you of two topics.

The first topic is our search for men to serve on the Council starting next year. This search needs to be completed by his fall. Three current Council member terms end this fall as well as two open positions this year. So, the question is, "Which area of ministry matches your talents?"

The second topic concerns our transition from our two Sunday services back to our normal one Sunday service. Jerry Sexton and I will be calling members to see when we can worship together in that one service. Let us not give up meeting together as some are in the habit of doing, but let us encourage one another and all the more as you see the Day approaching. Hebrews 10:25.
The past few weeks church attendance has increased as we recover from the pandemic. We pray that this trend continues in the coming weeks.
Your brother in Christ, Harold Henriksen

The last Sunday School class will be on June 6, for the current year.
The Fall classes will begin on September 12 for the 2021-2022 school year.
If you would like to volunteer as a Sunday School teacher beginning in the fall, please see Dave or Pastor.

The Thursday Bible Study will take a break in August.

Sermons, Bible Studies, and More on Facebook facebook.com/bslcspooner1/ and the church website www.bslcspooner.com.
Bible studies on Thursday and Sunday are broadcast live on Facebook and the study sheets are on the church website.

Sermons are available in audio format on the website and on Facebook for the Sunday and any special services. Bulletins for the current services are also available there.

Calendars and the newsletter for the current month are on the website.

Members of Beautiful Savior can set up an account and have access to the church directory and additional member information.
Library Update: The work on updating the Church library is continuing. We request that anyone that has borrowed a book or tape to please return it. The library is closed until the cataloging is completed. Once it is finished, we will let you know. Thank You.

DEADLINE for the Calendar and Newsletter is the third Friday each month. Please submit articles and calendar information by the deadline to fisch@centurytel.net or beautiful001@centurytel.net.

The 2021 Flower Calendar is posted on the bulletin board in the fellowship area. Cost per arrangement is $20. See Sharon or Peggy.

Lawn MowingTime Is Here. The sign-up sheet is located on the counter by the guestbook stand.


Support Washburn County Food Pantry
with donations of non-perishable food items. The donation box is in the fellowship area.

Difficulty Hearing the Sermon? Ask for an assisted listening device for a little boost in volume during worship services. If you would like to try one, tell Pastor or an usher. Parents, these devices even work in the education wing. If you wish, you may sit in the last classroom on the left and still hear the service.

Address Change: Please, let us know if your address changes. Or let us know if you plan to be away for school or an extended time and when you plan to return. Please mail it, drop it off, phone it in (715-635-7672), or email it to beautiful0001@ centurytel.net. That way we can keep in touch with you and send your newsletter. Thank you.


Our Family Barcodes: Thank you to all who help collect Our Family UPC Barcodes. For every 500 we collect and mail in, we receive a check for $25.00. This helps fund items needed in our preschool. Just a reminder, we only need to mail the "barcode" portion of the labels. Keep clipping and put them in the box in the library. This a great way to support our Preschool and students!

Lutheran Women's Mission Society (LWMS)
Convention Registration
Just a reminder to REGISTER for FREE by June 7. While you register you will be able to sign up for the Annual Business Meeting, our interactive IGNITE session, and virtual chat rooms to bring us together for some virtual fellowship. We look forward to seeing you online June 24-27, 2021!

For on the speaker, topic, World and Home Missions: Register and find more Convention information at: www.lwms.org/site/default.asp?sec_id=180014747
.
www.lwms.org
; Online –
www.facebook.com/LWMS.WELS
Facebook -
Follow LWMS:
This is why we gather: Church has been different this year. No doubt, you missed gathering together with our family of believers for regular worship. As churches are able to open their doors more and more, we hope to see more and more of our brothers and sisters in Christ each week. The "This is why we gather" series of short videos are available from WELS Congregational Services to share, encouraging God's children to remember the importance of gathering for worship together. You can access, view, and share these videos at welscongregationalservices.net.
WHAT ABOUT JESUS
ant to learn more your Savior and the Bible? Visit the What About Jesus website to learn about Jesus, the Bible, and your Christian life.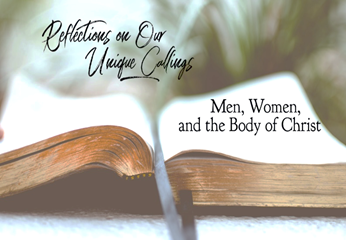 WELS Women's Ministry is releasing a three-month series
of devotions starting this June!
Reflections on Our Unique Callings: Men, Women, and the Body of Christ
As members of the body of Christ, men and women are privileged to share blessings and responsibilities in partnering together to serve their Savior. But men and women also have unique callings—callings that can be misunderstood, that sometimes feel out of step with our world today. Reflections on Our Unique Callings is a series of twice-weekly devotions from WELS Women's Ministry that explores biblical principles and applications, poses thoughts and questions for further reflection, and encourages conversations on how these unique callings find their fulfillment in the home, the church, and the world.

Read more:wels.net/serving-you/christian-life/womens-ministry/reflections-on-our-unique-callings-devotions/
PRAYERS
WELS – Lord, we praise you for "church"—fellow believers who gather amidst the troubles of this world to encourage one another in your Word. Thank you for providing technology to allow us to continue to do church and Bible study online over the past year even when we could not meet in person. We also thank you for providing a vaccine that is protecting many from further spread of the COVID-19 virus. If it is your will, allow us to safely return to gathering in-person once again to enjoy the full benefits of being together as the communion of your saints. Amen.
Carbon Valley, Firestone, Colo. – Dear Jesus, as you continue to grow your church of believers here on earth, we thank you for the blessings you've bestowed on the saints at Carbon Valley in Firestone, Colo. Be with them as they strive to complete their first facility by this July despite higher construction costs due to the pandemic. Bless them with increased visibility and evangelism opportunities in their community as they relaunch once their facility is complete. May all their efforts be centered around your gracious promises and comforting assurance that you are with them always. Amen.
Christian Aid and Relief – Most gracious Father in heaven, today we offer our thanks for your protective hand during troublesome times, especially for making available $200,000 from WELS Christian Aid and Relief to help congregations offer pandemic relief to their communities. What an opportunity to shine the light of your Son's love into our neighborhoods! May more congregations pursue the grants available so that more people can be assisted with their physical needs, which opens the door to assisting them with their spiritual needs. Amen.
Ministerial Education – Father in heaven, today we ask your blessing upon all those who graduate this month from our WELS ministerial education schools: Wisconsin Lutheran Seminary, Martin Luther College, Luther Preparatory School, and Michigan Lutheran Seminary. We especially pray that you would guide those receiving divine calls into the public ministry. May your wisdom and strength be with them in all that they do for the glory of your name. Amen.
World Missions – Dear Lord, there are still far too many living without access to the good news of Jesus Christ. Thank you for blessing the work of three world missionaries tasked with researching where WELS might have the opportunity to plant new world mission fields. Working through these missionaries, you have brought to our attention three new potential mission fields: the Ethnic Thai in Thailand, the Wolof people in Senegal, and the Tequila villages of Mexico. Continue to bless further research including multiple exploratory trips to each location. We pray for these efforts as we look to share the gospel message in more places! Amen


SEEK THE LORD
Isaiah 55:6-7Seek the Lord while he may be found; call on him while he is near. Let the wicked forsake their ways and the unrighteous their thoughts. Let them turn to the Lord, and he will have mercy on them, and to our God, for he will freely pardon.

Seek where you may to find a way,
that leads to your salvation.

My heart is stilled; on Christ I build.
He is the one foundation.

His Word is sure. His works endure.

He will overthrow my every foe.

Through him I more than conquer.
Christian Worship #395
[Jesus said] "Everything must be fulfilled that is written about me in the Law of Moses, the Prophets, and the Psalms." Luke 24:44
Forward in Christ
To help Christians find answers to some of life's hard questions—and in turn explain the answers to others—Forward in Christ launched its Please explain series in January 2020. Each month authors tackle tough topics, including:
To see all the articles in this series, visit FIC's archive, where you can search by series. Just click the "View series" button.

Additional Forward in Christ articles are available at wels.net/news-media/forward-in-christ/ –articles include current and archived, Heart to Heart. Evangelism, Confessions of Faith, etc.

You can also follow Forward in Christ on Facebook - Get more from Forward in Christ, the synod's official magazine, by following it on Facebook at facebook.com/ForwardinChristMagazine. Join the community and join the conversation.

today's FUNNY======================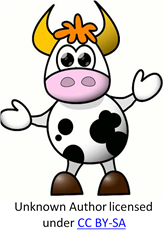 A farmer was milking his cow. He was just starting to get a good rhythm going when a bug flew into the barn and started circling his head.

Suddenly, the bug flew into the cow's ear. The farmer didn't think much about it until the bug squirted out into his bucket.
It went in one ear and out the udder.
today's Thot===========================
"Latte" is French for "you paid way too much money for coffee."
=======================================
PASS IT ON! Yeah, you can send this Funny to anybody you want. And, if you're REAL nice, you'll tell them where you got it! www.mikeysFunnies.com.
CROSSWORD PUZZLE



SOLUTION