\
I'm under a lot of stress.

Can God help me with some relief?

I once attended a presentation called "All Stressed Up and Nowhere to Blow!" I was attracted by the title because it described the way I felt at the time. Perhaps you know the feeling.

An online search of the word "stress" lists 344 million hits. Maybe that indicates that you and I are not the only ones who feel stress in our lives. Occasionally, we each would have to say, "I'm all stressed up!"

Stress puts the squeeze on all of us at one time or another. It's natural to look for relief. As we seek to discover just how practical our relationship with God really is, we might be led to ask, "Can God help me with some relief?"

It seems like some people in Palestine had that question nearly 2,000 years ago as they went out to hear a new preacher named Jesus. The all-knowing Jesus gave a wonderful answer in that teachable moment that we now call the Sermon on the Mount.

Matthew, one of the disciples with Jesus on that day, records some of Jesus' comments about stress. He said, "I tell you, do not worry about your life, what you will eat or drink; or about your body, what you will wear. Is not life more important than food and the body more important than clothes?" (Matthew 6:25). To those stressed about grocery money, Jesus pointed out that God doesn't let the birds go hungry. To others who were stressed over an inadequate wardrobe, Jesus pointed out that God doesn't let the flowers down when it comes to how they look. His point was made in a question that he still asks us today, "Are you not much more valuable than they?"

Of course, we are! The Bible tells us that "God so loved the world!" (John 3:16). You and I are included in that statement of good news. God showed his love by removing the greatest stress—our sin that separated us from our God—and placing it on Jesus, who took it away by his death on the cross.

God has the perfect antidote to relieve stress. He wraps his loving arms around us and says, "I love you! I forgive you." That relieves the stresses over finances or health or time crunches or job pressure … or anything. Relief is as close as God's promises, which are written for us in the Bible. Each week we take a close look at some of those wonderful promises. Come and share with us some genuine stress relief.

From the Pastor,

Psalm 118:17-18: I will not die. No, I will live, and I will proclaim the works of the LORD.

The LORD has chastened me severely, but he has not handed me over to death. (The Holy Bible, Evangelical Heritage Version®, EHV®, © 2019 Wartburg Project, Inc. All rights reserved.)

This is the appointed Psalm for Easter Sunday. We sang it on the day that we celebrated the resurrection of our Lord. Right now, we are in the midst of the Easter Season of the Church year and these words continue to ring through my ears and mind. They are words that are powerful in every season even when they were written several hundred years before the Lord would come to this earth to carry out the Father's plan of salvation.

SIn the midst of life we are in death. Look around. It doesn't take long for one to realize that death is everywhere. As we see people, the young and old, one by one leave the land of the living, there arises the question, "If a man dies, shall he live again?" Jesus says an emphatic "YES." What is more, the Resurrection Day of Jesus makes sure that I shall not die, but live. I shall not die eternally. Eternal death, the fearful wages of sin, with all of its hellish torments, has lost its power over believers. Christ has abolished it. He has brought life and immortality to light. Jesus said of himself: "I am the Resurrection and the Life." He proved that claim. Not only did he raise Lazarus from the dead and restore life to his physical body, he also laid down his life for our sins and took it up again to confirm his words are true.

This is the same Jesus who says to us: "Because I live, you shall live also." "He who believes in me will live even though he dies; and whoever lives and believes in me will never die."

We do want to keep in mind that the prospect of physical death faces all of us. Our body will then corrupt in the grave. However, we SHALL RISE from the dead. Christ will fashion our vile body like his glorious body, and we shall see him as he is, for we shall be like him and live with him eternally in his home of glory.


This is our resurrection hope, glorious, comforting, and sure. As death and the grave could not hold Jesus, so it cannot hold those who die trusting in him. Christ is the first fruits of them that sleep. The full resurrection harvest of all believers will follow one day when Christ comes again at the last day.

This hope which we have in Christ has meaning for us during this life as well. With this sure hope of life in Christ, we do not despair under adversity and affliction. God may very well let trials, afflictions, pain and suffering come upon us. We know, however, why he does this. In his love he is only chastening us. Those whom the Lord loves, he chastens. He wants to correct us when we sin, so that we are not condemned with the world. He wants us to exercise our faith in humble trust and patience and draw our eyes upward to that untroubled life he has prepared for us in heaven.

Therefore, even as he chastens us, trains us to grow in our sanctified life, we are confident that he has not given us over to death, that we should suffer eternally. With unshaken faith in our risen Savior, we will go on to declare the works of the Lord and praise him for the marvels of his mercy both here in time and forever in eternity.

Abide with us; heav'nly gladness
Illumine, Lord, our darkest day;
And when we weep in pain and sadness,
Be Thou our Solace, Strength and Stay.
Tell of Thy woe, Thy vict'ry won,
When Thou didst pray: "Thy will be done." Amen
Abide with us, the Day is Waning, verse 3
Author: Kaspar Johannes Boye
Bible Studies and Events: Worship services, Sunday and Thursday Bible studies, and The Old Time Radio Show are broadcast live on Facebook facebook.com/bslcspooner1.

Ascension Service on May 18 at 7 PM

Pentecost Season begins Sunday, May 28
Bible Studies
Sunday Bible study –10:30 AM
Wednesday Women's Study –6:00PM
Thursday Study –10:00 AM
Danbury study – 10:00 AM, Wednesdays May 3 & 17 at the Berg residence
Ladies Prayer Group/study May 13 –12:30 PM
Women's Bible Book Club May 20 –12:30 PM at Alley Cats!
Spring Clean Up at church will be held Saturday, at May 13.

The funeral for Walt Peters will be on Saturday, May 20, at 11 AM.
There will be a visitation beginning at 9:30 with a meal to follow the service.

Women's Spring Fling! Don't forget to RSVP to the Spring Fling on Saturday May 6. Lunch will be served at 12:30, and entertainment will follow!

Ladies Prayer/Study Group: There is a sign-up sheet to get the next book we will be going through. The sheet is in the fellowship area. On May 13 we will begin our study of the book "Full Accessories of God: The Spirit's Makeover for Women."

Women's Bible Book Club: We will meet at Alleycats on May 20. Be there by 12 noon to grab your lunch so we can start the study by 12:30. Didn't buy the book, but still want to join? No worries! Just bring your Bible and join in the great conversation!
Empowering Survivors: Our support group will be meeting on Sundays here at the church. These meetings will start at 3:30. If you know of someone who could benefit from this type of meeting, please let Lauren Henriksen or Dea Warskow know. All participants must preregister before the class begins.
By his great mercy he gave us a new birth
into a living hope through the resurrection
of Jesus Christ from the dead. 1 Peter 1:3,4 EHV

Ministry of Compassion
As we observe ministry throughout history, God has called individuals to serve his people by sharing God's Word. Many today feel they do not need to be part of a church, do not need Christian preaching and teaching. " I can be a believer without any of that." Well, if that is true, then why does Jesus bother to keep calling ministers to share his gospel: pastors, teachers, missionaries, etc.? Every Christian is sent to share God's Word. Clearly, Jesus himself believes ministry is necessary. He knows what we need better than we do. The Holy Spirit does his work through ministers. As ministers proclaim God's Word, the Spirit unleashes his power. We, as Jesus followers, are called to share God's Word, in this way we are ministers. Through gospel ministry our faith is sustained, which is what makes us holy in God's eyes.

Ministry demonstrates compassion for God's people: "When he saw the crowds, he was moved with compassion for them, because they were troubled and downcast, like sheep without a shepherd." Matthew 9:36 EHV

The Greek word translated "compassion" refers to a type of love that almost overwhelms emotions. That's the idea behind the Greek word for "compassion." Jesus looks at the people and is willing to do anything for them—to make any sacrifice, even humiliation and death on the cross. In that same compassion, the Lord of the Church raises up ministers. Ministers share his grace and mercy. Christ's compassion saves eternal lives. He fills his ministers with his Spirit, so that they also feel compassion for God's people.

(Excerpt above from Transformed—teen devotion April 23, 2023, Creative Commons)

One truth shared: The Scripture provides direction for life

Some of those who were with us went to the tomb.
They found it just as the women had said,
but they did not see him. Luke 24:24 EHV

Three days after Jesus was crucified, two of his followers left Jerusalem and walked seven miles to a town called Emmaus. They traveled with a deep sadness because they thought Jesus was gone forever. Everything hurt.

He said to them, "How foolish you are
and slow of heart to believe all that
the prophets have spoken! Did not
the Christ have to suffer these things
and to enter his glory?" Then beginning
with Moses and all the prophets,
he explained to them what was said
in all the Scriptures concerning himself.
Luke 24:25-27 EHV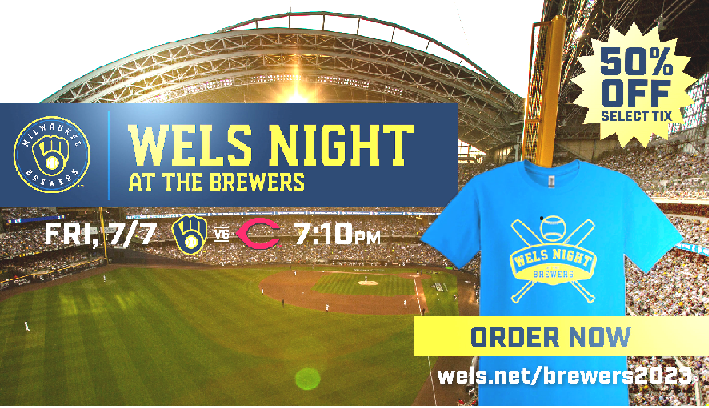 Tickets AND NEW SHIRTS available for WELS Night at the Brewers: Back for another year by popular demand, WELS Night at the Brewers is on for 2023. Join thousands of WELS members for an evening at the ballpark on Friday, July 7, to watch the Brewers take on the Cincinnati Reds.

Tickets for WELS members and guests once again are discounted up to 50% and are reserved all together in a block. Cheer on the Brewers! Individual tickets can be purchased online at brewers.com/wels.

Don't forget to order your WELS Night at the Brewers t-shirt, with an all-new design for 2023 at welsstore.net!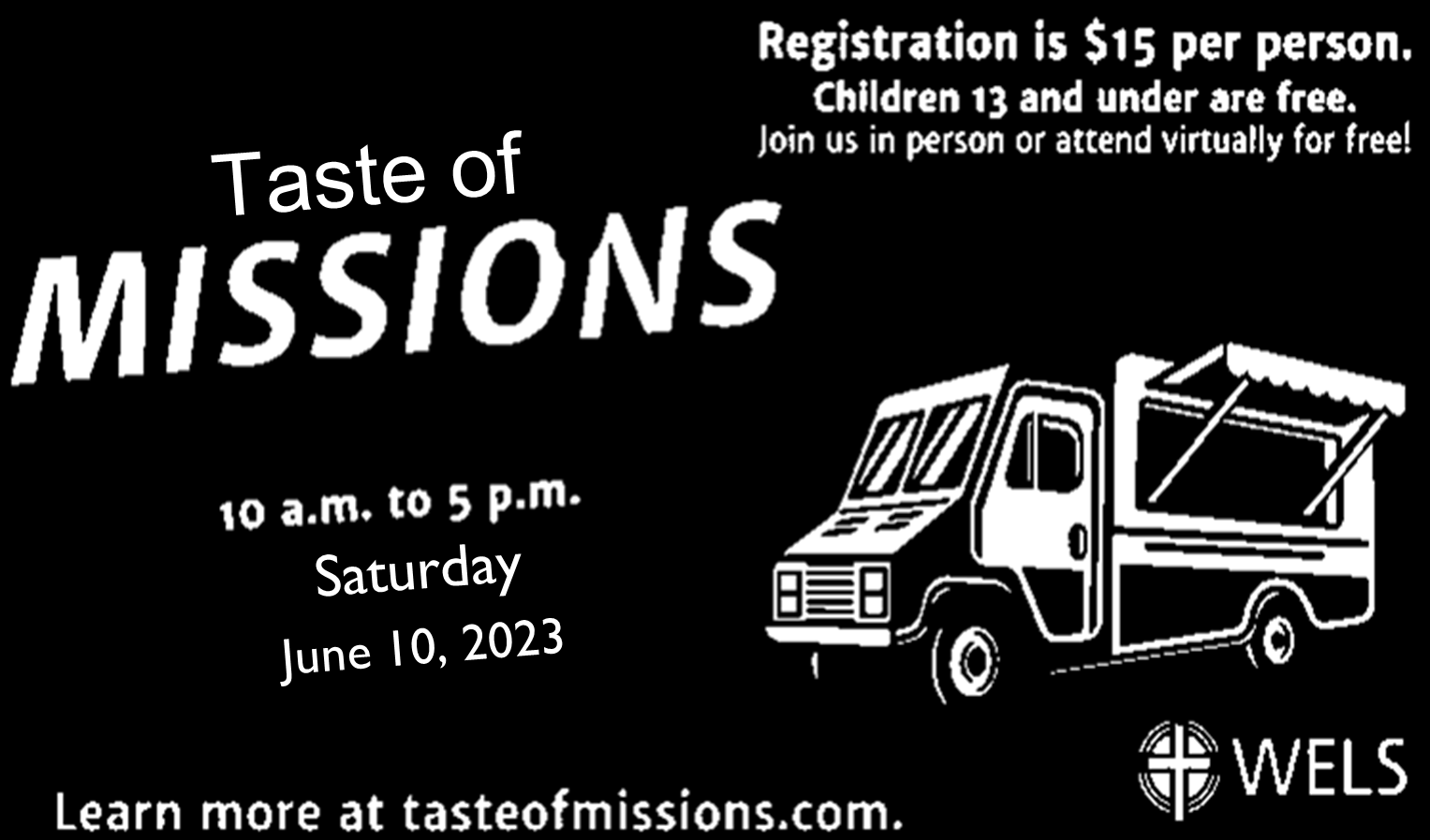 Register for Taste of Missions 2023!

Registration is now open for Taste of Missions to be held on Saturday, June 10! Join us in person at Wisconsin Lutheran Seminary in Mequon, Wis., and online, as we give all WELS members a "taste of missions." We're looking forward to a fun day of worship, ethnic food offerings, and family-friendly fellowship with brothers and sisters in Christ.

Registration is $15 per person, with children 13 and under attending free. Those attending in person will receive food tickets to sample ethnic food..

Not Here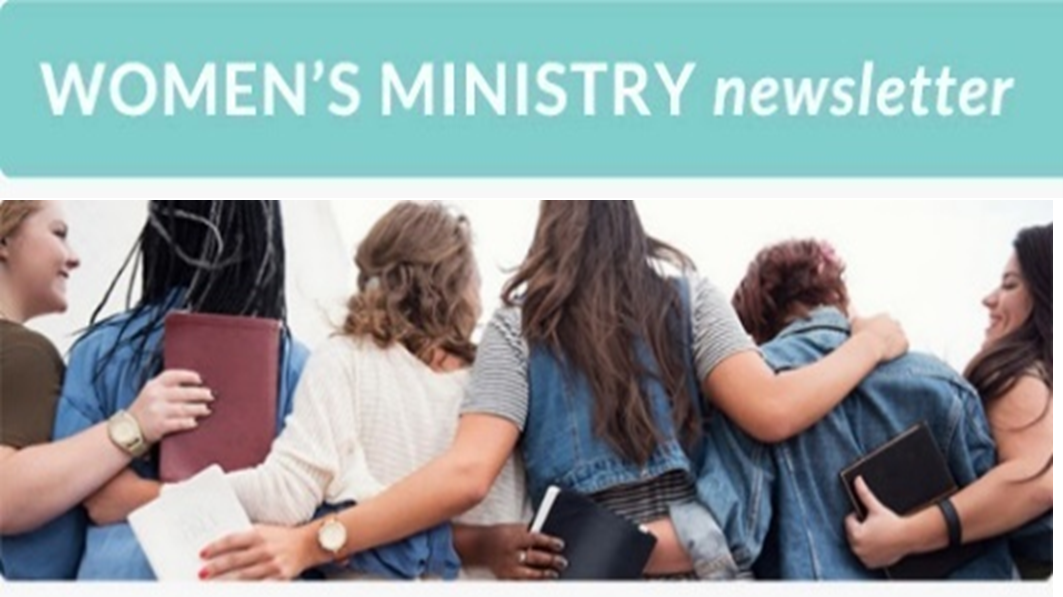 You might know how it feels. Anyone who has experienced the turn of events during a sudden death of a loved one can identify with the accompanying experience. Life screeches to a halt. Minds go numb. Hearts shrink, shell-shocked. Our loved one is no longer here.

Ever been there? Take heart, dear one, you are not alone.

This excerpt from article written by Marilyn Sievert.

View the newsletter at: https://wels.net/serving-you/christian-life/womens-ministry/. At the site, scroll down the page to the newsletter list.

About WELS Women's Ministry:
Women's Ministry exists to nurture, encourage, and equip women to faithfully use their gifts for service in God's kingdom.

Find WELS Women's Ministry on Social Media: Follow WELS Women's Ministry on Facebook (https://www.facebook.com/WELSWomensMinistry)
and Instagram. Share and make comments to help us spread the news about WELS Women's Ministry!

LWMS announces 2023-24 mission project: The Lutheran Women's Missionary Society selected "Missionary Kids Retreats" for the 2023-24 school year to help the WELS World Mission Project #WM-2022-03: Repatriation Conferences. These retreats began in 2021 when the Board for World Missions recognized a need of our missionaries' children, especially ages 14-25 years old who have been raised overseas in other cultures and find there are struggles to assimilate when returning to American culture. The funds will help defray some of the expenses for this unique group of WELS Christians when they attend the annual weekend retreats. At the retreats, these young adult missionary kids receive tools to cope with these many changes and forge friendships with other missionary kids who have shared similar experiences.
Resources from NPH Visit nph.net or call 800-662-6022 to learn about the resources and many more ideas for your spring Christian book and gift needs.

Need gift ideas for Spring occasions? Visit (https://online.nph.net/springcatalog) to learn about great books and gifts for confirmation, Mother's Day, and weddings and anniversaries.

Follow Forward in Christ on Facebook at facebook.com/ForwardinChristMagazine. Get more from Forward in Christ, the synod's official magazine, by following it on Facebook. Join the community; join the conversation.

Parent resources from Forward in Christ Articles are found at https:.forwardinchrist.net/parents


[4/20/23 - Live Action News] A newborn was safely surrendered in an Indiana Safe Haven Baby Box on April 8. The surrender marks the fourth that has taken place in the state and the sixth nationwide since the start of 2023.

Run by the Safe Haven Baby Box organization, the baby box is a temperature-controlled box equipped with a silent alarm that allows a parent to safely and anonymously surrender their infant under their state's safe haven laws. The boxes are often placed in firehouses and hospitals so that emergency responders can act as soon as the child is placed inside. The boxes are located in a handful of states around the country in an effort to curtail infant abandonment.
Read the rest of the article and more at https://www.liveaction.org/news/newborn-surrendered-fourth-baby-box-indiana/.
WELS Missions in Africa: Missionaries working with WELS' established missions – Cameroon, Malawi, Nigeria, and Zambia – focus on assisting the national synods and their churches as they mature, while also helping with their pre-seminary and seminary programs. Two synods in Ethiopia and Kenya reached out for assistance and are now in full fellowship with WELS and partner in new outreach initiatives. Seven additional African countries have reached out to WELS and the Lutheran Church of Central Africa (LCCA) for fellowship and theological training. Visits have been made to Liberia, Mozambique, South Sudan, Tanzania, Uganda, and Zimbabwe. Learn all about WELS' sister church bodies, mission opportunities, and WELS missionaries in Africa at wels.net/africa.
The new Theological Education Center in Vietnam was completed and passed inspection at the end of January 2023. WELS took full ownership of the building at that time. The new center includes a chapel, classrooms, and dormitory/cafeteria space for up to 60 visiting students at a time. A formal building dedication and graduation ceremony for the first class of 57 pastors who have completed their seminary training is scheduled for July 2023.
Learn more about theological education for the Hmong in Vietnam at wels.net/vietnamhmongoutreach.
For more mission information go to https://wels.net/serving-others/missions/.


WELS Missions in Africa: Missionaries working with WELS' established missions – Cameroon, Malawi, Nigeria, and Zambia – focus on assisting the national synods and their churches as they mature, while also helping with their pre-seminary and seminary programs. Two synods in Ethiopia and Kenya reached out for assistance and are now in full fellowship with WELS and partner in new outreach initiatives. Seven additional African countries have reached out to WELS and the Lutheran Church of Central Africa (LCCA) for fellowship and theological training. Visits have been made to Liberia, Mozambique, South Sudan, Tanzania, Uganda, and Zimbabwe. Learn all about WELS' sister church bodies, mission opportunities, and WELS missionaries in Africa at wels.net/africa.

WELS Annual Report Available Online: "Your gifts, God's blessings: An annual report to our members" is now available online at wels.net/annualreport.

PRAYERS
Africa – Jesus, Head of the Church, we praise you for our Christian fellowship with churches around the world including the Lutheran Congregations in Mission for Christ in Kenya. Through these partnerships we can take the gospel to more people than we could alone.

St. John Ev. Lutheran Church, Saint Paul, Minn. – Lord God, we praise you for opening the doors for the preaching of your life-giving gospel. When it seemed that doors to ministry were closing at St. John Lutheran in Saint Paul, Minn., due to hardships and vacancies, you were always guiding the church to new opportunities. We thank you for opening the door to Hispanic outreach at St. John. We also praise you for bringing Pastor Tim Otto to serve as bilingual pastor there. Bless his ministry among your people. If it is your will, allow this ministry to flourish as they connect with people in the community, so that many may find peace and salvation in Christ, our risen Savior. Amen.

Martin Luther College – Lord Jesus, Martin Luther College has begun a new strategic plan called "Pursuing Excellence Under the Cross." Grant that this effort to move their ministry forward may be a blessing to all those on campus and to the members of our synod. Through this plan, we ask that you send more workers into the harvest fields of our churches, schools, and communities. Amen.

Lutheran Schools – Lord of the Church, we praise you for the opportunities you have provided to preach and teach the gospel through our Lutheran schools. You have blessed enrollment with a 20-year high so that more students can sit at Jesus' feet and learn from him. Keep these ministries focused on the mission you have given to preach the good news to all creation. As parents carry out their calling to train their children in your saving way, may our schools assist in this important task. Relieve stresses, remove divisions, and renew the zeal of your servants to care for your precious lambs. Also, bless the work of our synod's Commission on Lutheran Schools, which supports and equips our Lutheran schools. Amen.