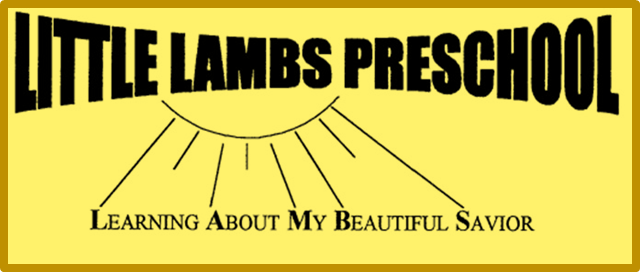 Little Lambs Preschool
At Beautiful Savior Lutheran Church,
Highways 70 and 53
www.bslcspooner.com

Teaching young minds - Preparing young hearts
Openings are available for Classes

For more information
Call 635-7672 (church) or 635-7678 (preschool)
Programs for 2 1/2- to 6-year-olds

Experienced, caring teacher

State licensed

Small class size

Developmentally appropriate early childhood practices

Kindergarten readiness

Christ-centered curriculum
Twenty plus years serving our community

Call for a visit at any time

Offering a Caring, Christ-Centered Education
We allow families to choose the days that work best for them. Our doors open at 7:00 A.M. and classes run until 4:o0 P.M. We're a State Licensed preschool with morning or all-day programs for 2 1/2- to 6-year-old children. Our small class size and developmentally appropriate techniques help to prepare your child for Kindergarten!
For more information please call our teacher, Lorri McQuade at
715-635-7678 (preschool) or leave a message at 715-635-7672 (church).